FLUX architecture + design is a multidisciplinary design studio specializing in contemporary design.  With projects that range from large scale urban and mixed use developments to single family homes and interiors, FLUX has the ability to deliver clients a full range of design services regardless of type of project or location. Our project teams are carefully chosen and organized combining our employees with collaborators and consultants who specialize in specific project type or design application. This allows us to deliver clients the highest level of service while still maintaining the personal care of a small boutique design firm.
FLUX Construction offers full construction services.  With construction management experience, partnerships with contractors, and in house fabrication capabilities, we are able to deliver client's finished buildings and products while controlling overall quality and costs.
FLUX modern development utilizes the expertise of the both the architecture and construction practices, to develop unique real estate opportunities.  We carefully choose projects that give our investors and partners generous returns while managing the risk.  Our investments include land purchasing, land development, residential development, and commercial development.  Our projects build upon our modern aesthetic creating unique developments that connect with community and are environmentally sustainable.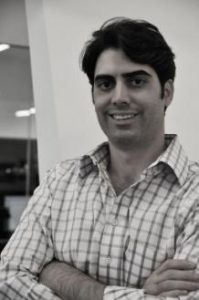 JORGE L. BAZAN
Principal, Director of Design
As Founding Principal and Director of Design of FLUX architecture + design and FLUX Construction, Jorge Bazan is in charge of the overall firm philosophy and design direction.  His creative pursuit for iconic designs has given Jorge the opportunity to be involved in wide range of international projects ranging from super tall skyscrapers to single family homes.
Jorge's continual research into new technologies, innovative formal techniques, construction materials, construction methods, and cultural trends has become the basis to the design direction of the firm, allowing FLUX to deliver  clients the latest in architecture design.  Furthermore, his active participation in Real Estate development has given Jorge extensive insight into project financial objectives while allowing him to pursue progressive designs which work with these requirements.
Prior to founding FLUX, Jorge Bazan worked for tvs-design (2002 AIA firm of the year) and CooperCarry Architects where he was involved in designing a diverse range of complex projects including: The Dubai Towers, Dubai; Jebel Ali Center Towers, Dubai; Samsung Towers, South Korea; Wangjing Masterplan, China; UNLV School of Hospitality Campus and Hotel, USA; Dubai Emblem Tower, Dubai; Marriott Renaissance Club Sport Hotel, USA.
Mr. Bazan received a Bachelor of Science degree from The Georgia Institute of Technology where he studied architecture and finance, and a Master's in Architecture from the University of California Los Angeles.
KEVIN YOUNG, AIA
Kevin hails from a family of architects and craftsmen in Kingston Jamaica. He credits his Caribbean upbringing with opening his eyes to design. Living outdoors as often as in, a deep appreciation was instilled for the intense tropical landscape and climate. There he learned the pragmatic functions – that of providing shelter and safety- which architecture must fulfill, as well as the contextual awareness the architect need bring to bear in order to give a work its essential quality.
His outlook was honed studying at the University of Miami and the Massachusetts Institute of Technology, illuminated and refined on international travels, and put into practice in the Southeastern US and the Caribbean. He owes an enduring love of travel, history, and freehand sketching to a semester spent in Rome while a student, and still enjoys discovering design wherever in the world it can be found.